Bespoke Designs Crafted with Care
Discover your dream bathroom! Let our experienced and professional designers work their magic on your bathroom, with expert planning & management by friendly knowledgeable staff.
We have many services available which include supply only, design and supply only, or full design and installation service. Our teams of plumbers, carpenters, tilers, plasterers, decorators and more are all employed by us which is just one aspect that makes us different. We have more control than other bathroom companies and when we say we do it all for you – we really mean it.
We produce a free 2D and 3D design to help you visualise your entirely bespoke space. We also have VR design so you can even stand in a virtual version of your bathroom to see all the design choices up close and personal. All our designs are discussed thoroughly with yourself and your designer. All of this happens in our Bathroom Showroom in Northamptonshire.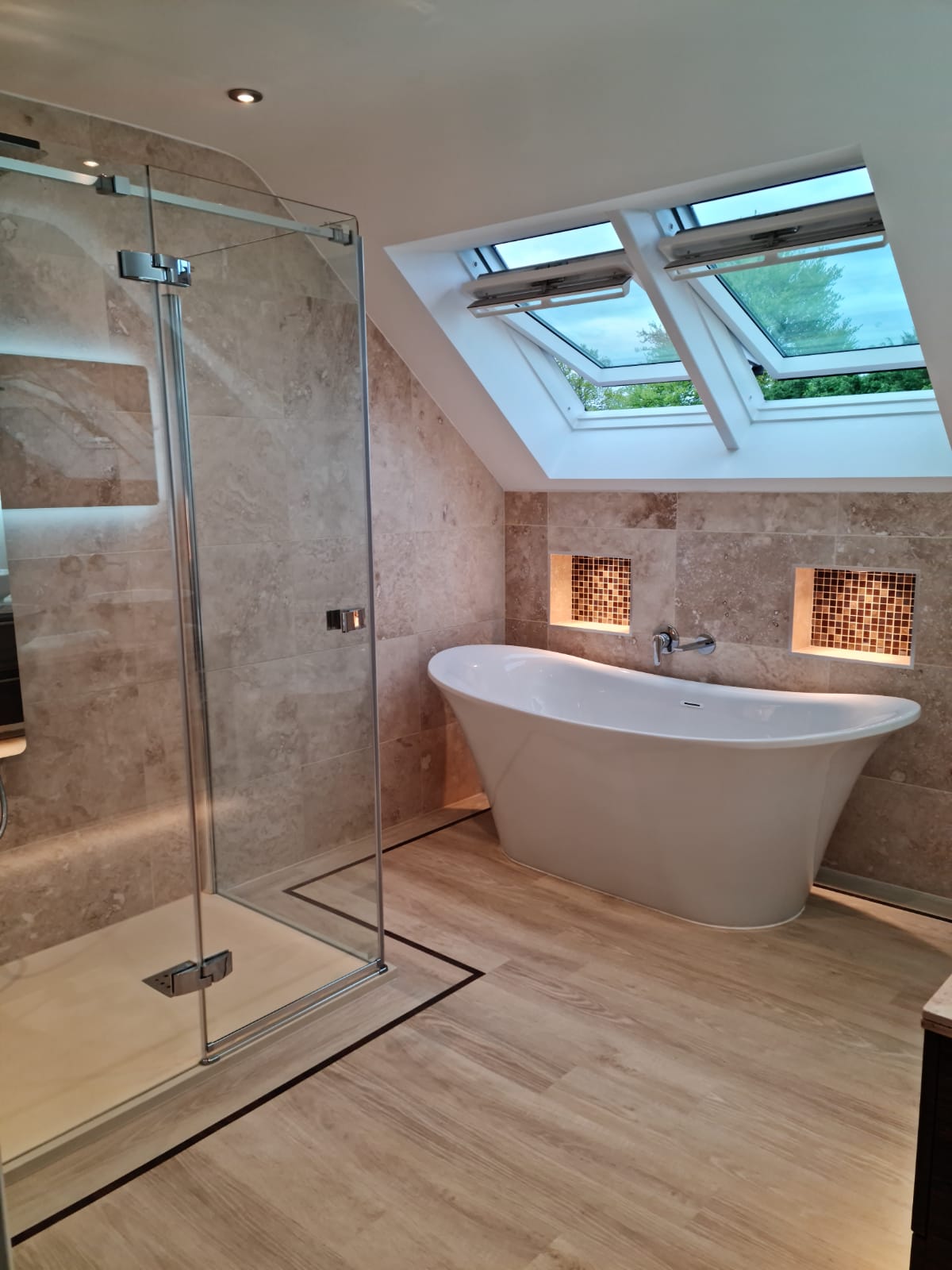 0% Finance with Addingtons
At Addingtons we understand that some of our clients want to pay everything outright, and ensure your bathrooms and kitchens in Northamptonshire are all bought and paid for. We also understand that some of clients like to have finance options. It might be that you fall in love with a product but it tips your budget and so you want to make up the difference, or that the money isn't in the bank but the bathroom needs work and you don't want to compromise or simply you prefer to have finance instead of using other funds.
We have 0% interest options and interest bearing finance over a maximum of 10 years.
We can discuss all the options and your suitability in our Bathroom Showroom in Northamptonshire and work out which option is best for you.
Our 10 Year Guarantee
Our Project Managers have vast experience and qualifications to carefully craft your bathroom with our teams of other employed staff members who are all experts in there field. We also have the Business Manager who with the help of our vital full time friendly and knowledgeable office support staff are always happy to help any query you may have before, during or after your project ensuring every aspect is taken care of.
Peace of mind is so important and with our 10 year workmanship warranty, you know that even after we leave you that your gorgeous bathroom will stay gorgeous for many years to come.
Our Quotations & Installation Service
Our bathrooms are fully Project Managed. Our teams of employed, skilled and experienced craftsmen will install your dream space. We do not use sub contractor installers which means all of our tilers, decorators, plasterers and fitters are all employed by us because we don't just have some trades like many of our competitors – we have all trades. We are long time members of The Guild of Master Craftsmen and have over 20 years of experience and happy customers. We have our knowledgeable and experienced office staff who are dedicated to supporting our impressive Project Managers. Our teams mixed with our support staff take all the stress out of your bathrooms in Northamptonshire and beyond.
Take a look at what our customers have to say..
I would highly recommend Addingtons for their professionalism and rigorous attention to detail.
The design process was thorough, the office staff were friendly and helpful and Damien and his team were great and showed excellent attention to detail.
Addingtons staff were very thorough and patient throughout the design stage - not pushy just to achieve a sale - even though we took over two months to finalise design and choices!
The showrooms are bright, well laid out with a good range of both bathroom and kitchen displays.
All the team from start to finish were professional and friendly, would definitely recommend, and we will be using again for future jobs.
My bathroom, cloakroom, garden and now kitchen all have been done by Addingtons. I really wouldn't go anywhere else. Service from beginning to end is second to none.
Addingtons are a local business who look after their customers and offer attention to detail and superb customer service.
They are a quality firm staffed and owned by a team of dedicated people.